Roosevelt College Marikina:
BS Computer Science Batch 2003 10th Year Anniversary
Batch 2003 Celebrates 10 years of Graduation!
Through the years, we have managed to stay in contact with each other. We have proven our lasting friendships and continued our tradition of celebrating Christmas together.
Now, as we celebrate our 10th year of graduation, let us show everybody our strong bond. Let's celebrate this wonderful occasion! It's time to come back to the intitution that nurtured us and reminisce all the fun and excitement that we had during our fruitful years in school.
The Date
April 11, 2013 marks the exact 10th year of graduation. Commencement exercises were held at the RC Marikina Gymnasium on April 11, 2003. It is rightful to celebrate this occasion on the same day it took place 10 years ago.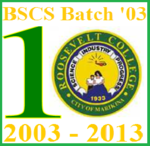 About the event
Event Details

Contributions

Sponsorships
Everybody's cooperation is needed in order to make this event a success!